The new Klarna payments app integration for Shopify provides integrated order management. Order management for Klarna orders should continue to be processed as part of your standard order management within your Shopify admin. 
(While order management could be done directly via the Klarna merchant portal, this will cause Klarna data and Shopify order data to be out of sync and could result in unintended updates, e.g. duplicated refunds.  Unless there is a problem, all order management should be done through the Shopify admin, not the Klarna merchant portal.)
Based on the "Payment capture" method configuration setting (in the Shopify store admin, under Settings -> Payments),
for "Automatically" captured orders, the Shopify payment status is set to "Paid" and the corresponding Klarna order is automatically captured.
for "Manually" captured orders, the Shopify payment status is set to "Authorized" ,and Shopify currently only allows a single capture per order within the Shopify store admin.
This "Payment capture" setting applies to ALL orders in a Shopify store. With this new payments integration, the capture of the Klarna order is no longer dependent upon the Shopify order being fulfilled / shipped (as was previously dependent with the HPSDK integration).
Note: based on your Klarna contract, Klarna charges merchant fees for captured orders. When Shopify orders are automatically captured (immediately after the order is placed), Klarna fees will apply for each order, even if the order is cancelled in the Shopify admin without being fulfilled.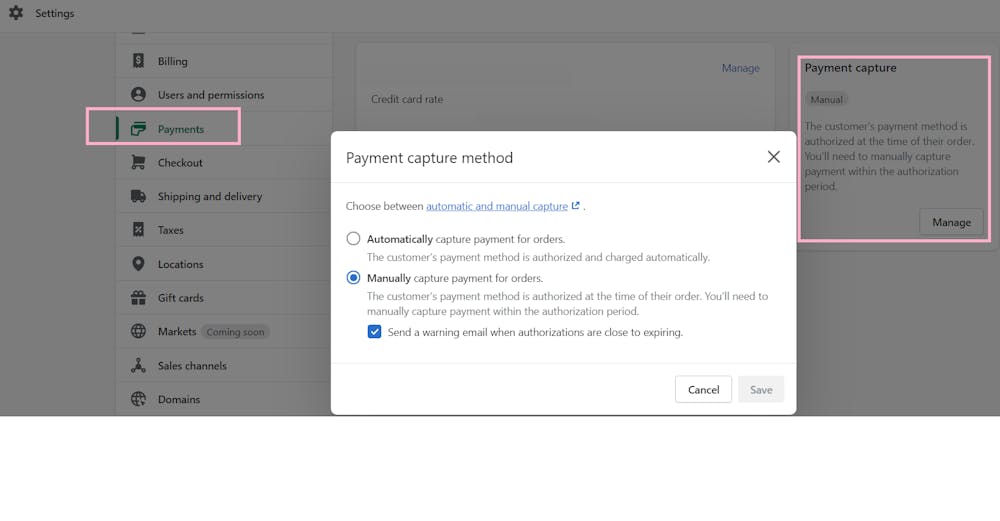 Refunds made in Shopify (all types of Shopify refunds: before or after Shopify order fulfillment, full or partial refunds, order line based refunds or amount based refunds) will update the Klarna order after a short time delay of a few minutes (less than 10 minutes).
If the order's payment capture method was set to "automatically capture" the order, the Klarna order would have already been captured, and thus cancelling the Shopify order will result in a refund for the Klarna order.
If the order's payment capture method was set to "manually capture" the order, cancelling the Shopify order (prior to manually setting the order as "Paid") will result in the Klarna order also being cancelled.
For orders that are not automatically captured (based on your store's Payment capture setting), Klarna recommends manually capturing the order prior to the Klarna order expiration date (that expiration time frame depends on your Klarna contract, e.g. 28 days). The Klarna order's authorization time cannot be extended within the Shopify admin; Klarna orders may possibly be extended in the Klarna Merchant Portal, if applicable for the order.