What is The Dispute Fee?
When a Customer raises a dispute with us for the reasons set forth below, you (as the seller of the goods/services) are responsible for resolving this dispute. If you cannot reach an agreement with the Customer within the time period specified below depending on the dispute reason, the dispute will escalate and our customer service teams will step in and help solve the dispute. In such a case, we reserve the right to charge you a dispute fee to compensate for additional operational costs on our side.
Whether you get charged with a Dispute Fee or not is decided by the outcome of the dispute, not the escalation in itself, hence we don't charge a Dispute Fee on the day of escalation. The fee is charged retroactively once we've determined the outcome of the dispute and who is liable.
You will not be charged a Dispute Fee if a Customer:
Is deemed to be at fault. 
Cannot provide the information requested by Klarna to proceed.
Cancels the dispute on their own accord.
In these instances, we will reactivate the invoice with no charge towards you, the Merchant.
Time to resolve the dispute (Dispute Resolution Time)
Contingent on the Customer providing Klarna with the relevant information to proceed with the dispute. 
Counting from when the dispute is raised by a Customer with Klarna, you, the Merchant, and the Customer have a minimum of 21 days to resolve the dispute, as stated below. The one exception being returns, where we count from the return date. 
With that in mind, If you do not resolve a dispute within the time periods stated below, starting from when the Customer opens the dispute with Klarna, Klarna may charge you a Dispute Fee.
| Dispute reason | Calendar Days |
| --- | --- |
| Returns | 21* |
| Goods not received | 21 |
| Incorrect Invoice | 21 |
| Faulty Goods | 21 |
| Already paid | 21 |
| Unauthorized purchases | 0 |
* Depending on the return date provided by the Customer upon Klarna's request. If the return date is <14 days from escalation we will automatically postpone the escalation date by 14 days from the return date, giving you enough time to be able to process the return.
Where Do You Find Disputes
You will find your disputes under the tabs "Open Disputes" and "All Disputes" in the Merchant Dispute App.
"Open Disputes" Contains all escalated disputes, meaning disputes that have passed the resolution time and may be charged with a Dispute Fee. 
"All Disputes" Contains all disputes. Recently opened, escalated and closed going back 90 days. 
To help you manage your disputes and make sure you don't miss a deadline, Klarna will notify you shortly after the dispute has escalated and is available in "Open Disputes".  
Example of timeline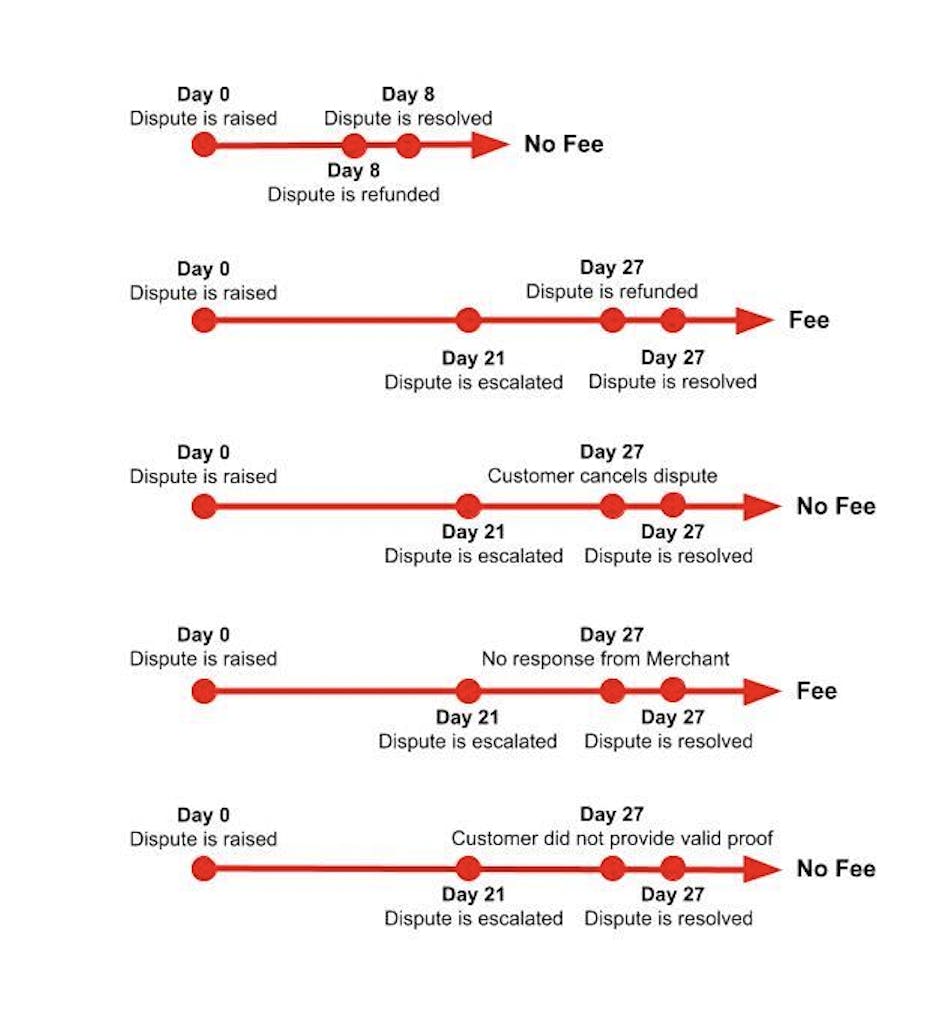 Dispute fee per market
| Market | Dispute fee (from Oct. 10, 2022) |
| --- | --- |
| AT, DE, ES, IT, FR, BE, NL, IE, FI, PRT, GR | 15 EUR |
| SE | 150 SEK |
| NO | 150 NOK |
| DK | 150 DKK |
| UK | 10 GBP |
| PL | 60 PLN |
| US | 15 USD |
| CA | 20 CAD |
| AU | 25 AUD |
| NZ | 25 NZD |
| CZ | 350 CZK |
| RO | 70 RON |
| CHE | 15 CHF |