Prior to Dec 31, 2021, current Shopify merchants integrated using Klarna's alternative payment method HPSDK (Hosted Payment SDK) integration must update their store to migrate Shopify's new payments integration. The steps to migrate include:
From the "Integration" link in the Klarna Merchant Portal, follow the steps to install the Klarna app in your Shopify store. (Note: this isn't publicly available yet, but is coming soon Q3 2021. Initially, only the production merchant portal will be supported for test mode of the payment method; a production merchant account will be required even for test mode orders.) Once the new Klarna app is installed in your store, you'll be able to activate the new Klarna alternative payment method, which will enable 'Klarna' to display as a payment method in your Shopify checkout.
In Shopify store admin (under Settings -> Payments -> Alternative payment methods), deactivate your current Klarna alternative payment method(s). This will remove the HPSDK Klarna payment methods (e.g. "Buy now, pay later with Klarna") in the store's Shopify checkout. Do not remove the current HPSDK Klarna Payments app in the store though (at least until all previous HPSDK orders are finalized), as the Klarna Payments app enables your order management updates (i.e. captures, cancels, refunds) from your Shopify admin to automatically update Klarna.
As long as your Klarna contract (and corresponding merchant id) doesn't change, no changes should be needed in the Klarna On-site messaging app when you switch from the Klarna HPSDK integration to the new Klarna payments integration.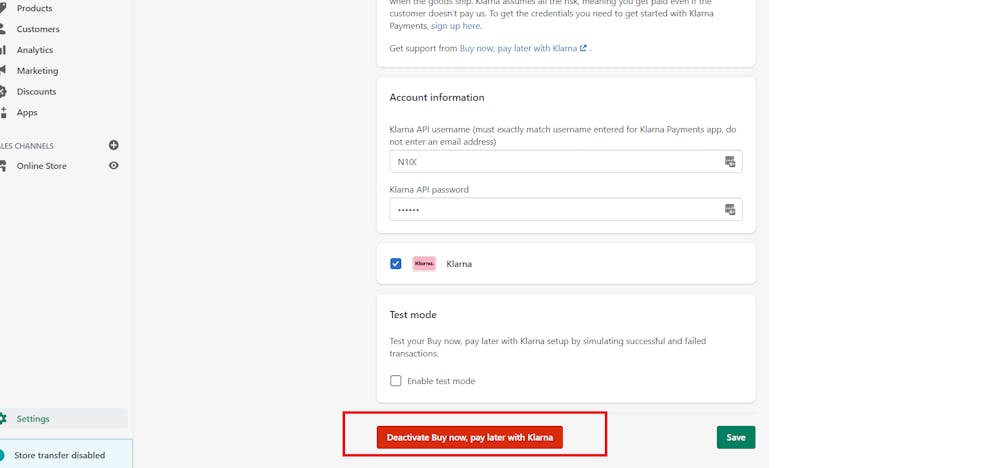 Migrating from SOFORT Banking (DIRECTebanking)
Merchants may migrate from the "SOFORT Banking (DIRECTebanking)" alternative payment method to a similar Sofort payment method by either activating:
"Sofort" as a local payment method (within Shopify Payments) OR
"Klarna" as an alterative payment method (separate from Shopify Payments), which can include the Sofort payment option if activated in the merchant's Klarna contract.
Note: if Klarna is activated in a store as both a local payment method (within Shopify Payments) AND also as an alternative payment method (not within Shopify Payments), only the local payment method will appear as a payment method in Shopify checkout.
The merchant's current Sofort project/contract will not be transferable when migrating to a different payment method.
There is not currently a published date when merchants must migrate off the SOFORT Banking (DIRECTebanking).