After the initial Klarna Payments Shopify integration, at any time you can update your settings, such as colors or Klarna API credentials. To access these settings, either click the Klarna Payments app from your Shopify store admin Apps menu OR https://www.klarnapayments.com/install

If you need to enter new credentials to move from test to production, you can do so here by entering the credentials (and toggling the collapsed test mode check box if applicable).
These settings will apply to the hosted payment page where the customer is redirected from Shopify checkout after selecting the Klarna Payments option. Changing the options below will change elements of the page as well as the Klarna application.  All URLs in the HPP template should be HTTPS URLs (not HTTP URLs); otherwise the HPP page for the store will have a security error and customers may receive security errors when opening the page (depending on their browser settings).
Merchants should upload their store's logo to Klarna via the Branding app in the Klarna Merchant Portal.   Please following guidelines documented there. The logo URL could be updated instead to a logo hosted anywhere publicly (within the Shopify store admin -> Apps -> Klarna Payments app configuration settings), but it is not recommended to use a Shopify asset URL as Shopify asset URLs can be changed at any time by Shopify.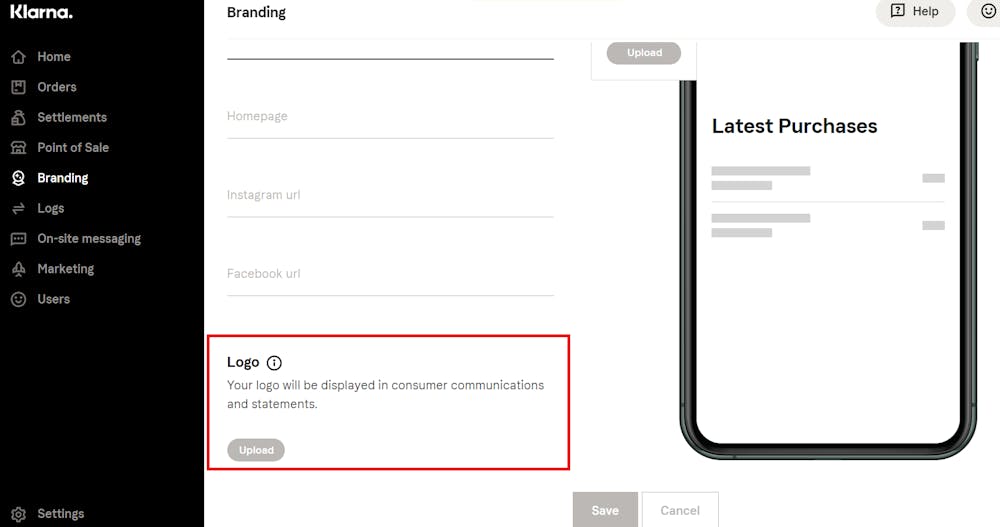 All colors supported by the Klarna Payments API are available to be configured.
In addition to the 5 customization options supported within Klarna Payments, these additional 4 color options are available for the Shopify KP page: 
Color button - used for the "Place Order" button outside of the iframe
Color button text
Color link -  used for "Change Payment Method" link outside of the iframe, which goes back to Shopify checkout page
Color header
As selected as the default option for this field for most merchants, Klarna recommends to use the "Locale set to customer selection" option, as this most closely aligns with locale processing within the Klarna Payments iframe, as documented at: Using purchase country, locale and currency
The code for this ShopifyHPP Klarna Payments integration pulls the customer's locale from the Shopify's checkout API data.  If the customer's locale is supported by this integration, it will be honored, but if the locale is not available, English will be used instead.
Alternatively, merchants can force a locale for the Shopify Hosted Payments Page to either a specific locale (e.g. sv-se) or "Locale set to merchant's Klarna setting for purchase_country" (e.g. for a merchant with purchase_country=no, locale would be nb-no), but with any of these locale options other than "Locale set to customer selection", be aware that the Klarna Payments iframe may not honor the requested locale based on customer's billing address and then the language within the Klarna Payments iframe may not match the language outside the iframe.
Defaulted to "Checkout - [store name]", but can be updated to any desired text
can be updated to a favicon image hosted elsewhere
Defaulted to footer text found in the store checkout. If no default is found, will be blank, but can be updated to any desired text
If you decide you no longer want Klarna active in your store, you can deactivate the Klarna alternative payment method(s); doing so will no longer show Klarna in your Shopify checkout.  It is recommended that you keep the Klarna Payments app in your Shopify store though, as this doesn't affect the storefront, and can still support fulfillments (which capture the order in Klarna), cancellations, and refunds (without order lines).  When the Klarna Payments app is removed from your store, fulfillments/captures and cancellations will not update from your store to Klarna, but refunds can still update Klarna (without order lines). Any order management updates that don't update via code can be done manually in the Klarna Merchant Portal.