General Klarna banners
Let customers know they can get more time to pay with Klarna. Using banners on your website or in your shopping app is an easy way to let customers know they can use Klarna to spread the cost of their purchase over time as they browse.
Choose one of our examples below if you want to talk about Klarna without expressing the payment products.
| Shop now. Pay over time with Klarna. | Get more time to pay with Klarna. | Shop Now. Pay with Klarna. | Pay smarter with Klarna. |
| --- | --- | --- | --- |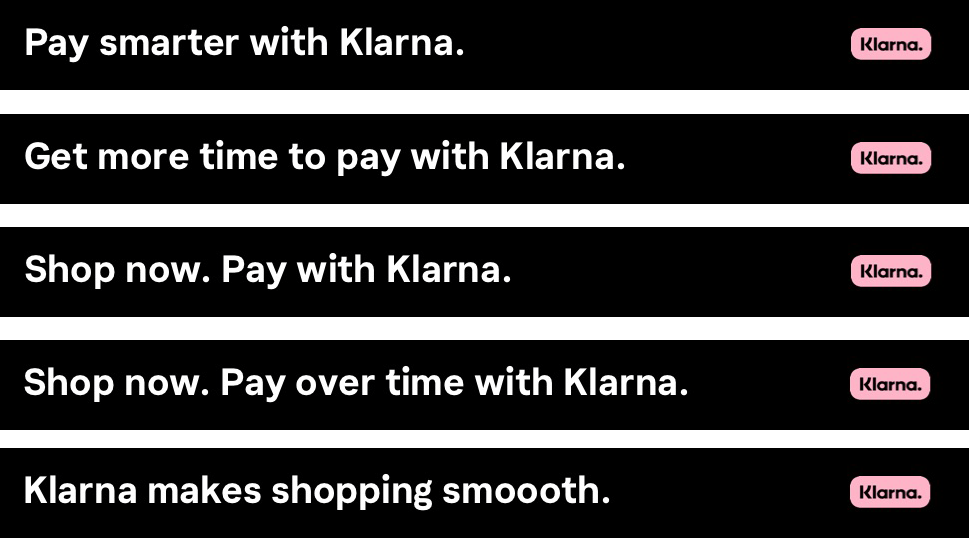 | Shop now. Pay over time with Klarna.* | Get more time to pay with Klarna.* | Shop now. Pay over time with Klarna.* | Pay smarter with Klarna.* |
| --- | --- | --- | --- |
| *CA resident loans made or arranged pursuant to a California Finance Lenders Law license. | *CA resident loans made or arranged pursuant to a California Finance Lenders Law license. | *CA resident loans made or arranged pursuant to a California Finance Lenders Law license. | *CA resident loans made or arranged pursuant to a California Finance Lenders Law license. |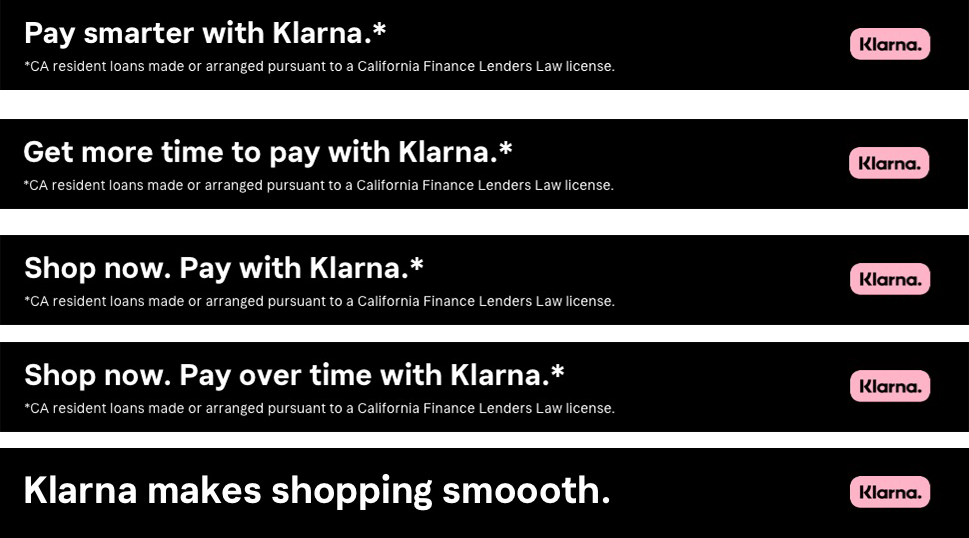 | Shop now. Pay over time with Klarna.* | Get more time to pay with Klarna.* | Shop now. Pay over time with Klarna.* | Pay smarter with Klarna.* |
| --- | --- | --- | --- |
| *Monthly financing through Klarna issued by WebBank, member FDIC. | *Monthly financing through Klarna issued by WebBank, member FDIC. | *Monthly financing through Klarna issued by WebBank, member FDIC. | *Monthly financing through Klarna issued by WebBank, member FDIC. |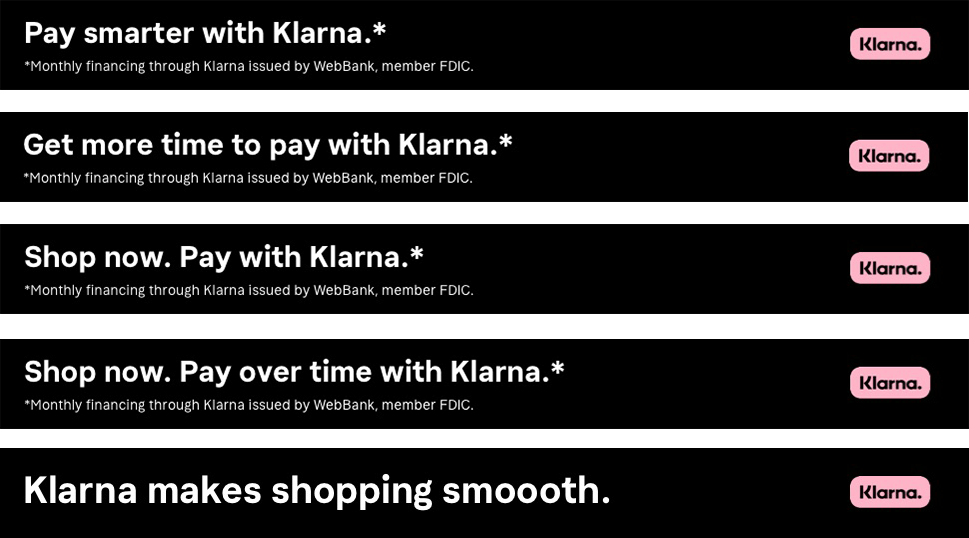 | Shop now. Pay over time with Klarna.* | Get more time to pay with Klarna.* | Shop now. Pay over time with Klarna.* | Pay smarter with Klarna.* |
| --- | --- | --- | --- |
| *Monthly financing through Klarna issued by WebBank, member FDIC. Other CA resident loans made or arranged pursuant to a California Finance Lenders Law license. | *Monthly financing through Klarna issued by WebBank, member FDIC. Other CA resident loans made or arranged pursuant to a California Finance Lenders Law license. | *Monthly financing through Klarna issued by WebBank, member FDIC. Other CA resident loans made or arranged pursuant to a California Finance Lenders Law license. | *Monthly financing through Klarna issued by WebBank, member FDIC. Other CA resident loans made or arranged pursuant to a California Finance Lenders Law license. |