Klarna offers two different Buy Now Pay Later Credit Products in the UK (BNPL Products): 
Pay in 3 instalments allows a consumer to spread the cost over 3 equal payments. This product is completely interest-free. 
Pay in 30 days allows a consumer to get up to 30 days to pay for their goods with no interest.
When advertising Klarna's BNPL products you MUST follow the following Rules for your advert to be compliant with the laws around advertising credit in the UK, and therefore deemed approved by Klarna. If you amend any wording or do not follow our Financial Promotions Rules, your promotion does not have Klarna's approval. These rules must be followed by:
All Partners who market our BNPL Products in the UK;
Partner legal and compliance teams;
Marketers looking for guidance on Klarna UK marketing compliance for BNPL Products; and
Any other interested or relevant individuals within our partners.
Remember that if you do not follow these Rules and you are not authorised by the FCA you are at risk of breaching the Financial Promotion Restriction if you communicate Financial Promotions without approval. Learn more.
The most important rule you need to know is this: Invitations to credit always trigger the requirement to add the UK BNPL Disclosure.
Why do I need a disclosure on my marketing?
Whilst the BNPL product remains unregulated in the UK, the advertising of them is subject to the Financial Conduct Authority's regulatory requirements. At the centre of these is the need to ensure communications about BNPL give customers everything they need to know before they decided to use credit to make their purchase. Partners must ensure adverts are balanced and do not emphasises the potential benefits of a product or service without also giving fair and prominent indicication of any relevant risks.
What is a disclosure? 
A disclosure is required to be added on BNPL Product promotions so that consumers understand the nature and features of the BNPL Product they are using. 
What is a risk warning?
A risk warning forms part of the disclosure and should be presented closely together with any benefits being promoted. Risk warnings highlight the possible negative consequences of a purchase or (mis)use of a product and provide information that ideally helps a potential customer to weigh up whether the product is suitable for them.
For example, the risk warning in our disclosure is this part:
Borrowing more than you can afford or paying late may negatively impact your financial status and ability to obtain credit.
Klarna's BNPL Disclosure
To deal with these requirements, and to ensure customers understand the product, it is essential that any advertising that is promoting BNPL products includes the UK BNPL Disclosure. The disclosure is designed to provide key information to the customer about the product as well as the all important risk warnings.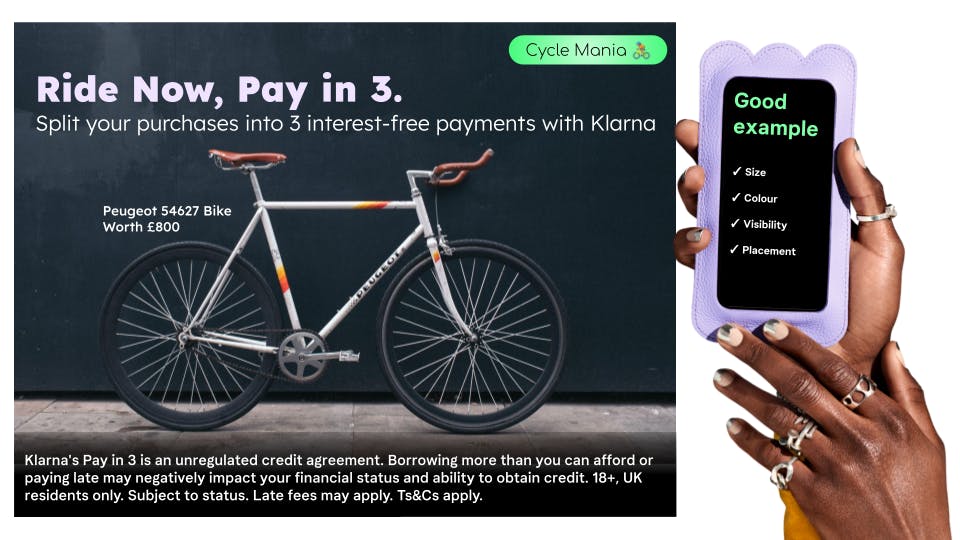 In any marketing it is important to always be clear with customers. This however becomes especially important in relation to the BNPL disclosure.  You must ensure that the UK BNPL disclosure is prominent enough to meet the FCA's requirements. 
This means:
1.  In relation to the other content of the marketing asset;
2. The disclosure is prominent enough (in time shown, size, clarity and colour);
3. In such a way that is likely that the attention of the average consumer would be drawn to it.

The most important things to remember are:
SIZE (your disclosure size should be at least 50% the size of the invitation to credit / promotion of BNPL)
COLOUR (your font colour should be WHITE if the background is dark, or BLACK if the background is light)
VISIBILITY (your disclosure must not be laid over busy imagery / pattern / other markings that makes the text less visible)
PLACEMENT (your disclosure should be placed WITH the invitation to credit / other promotion and as a general rule should always be visible on the same screen without the need to scroll).
READ TIME (for video content, the disclosure must be on the screen for a minimum of 8 seconds to enable it to be readable)
An invitation to credit prompts or encourages a consumer to use a BNPL product. 
The UK law does not define the term "invitation" but they are interpreted widely. The UK regulator's view is that "the expressions 'invitation' or 'inducement'…suggests any communications which have a promotional element.."
Due to the wide interpretation of 'invitation to credit', it is important to consider whether the overall impact of your advertising is to promote a BNPL product. If it is, you will need to observe these RULES for advertising BNPL.
If you choose to use these options these are "Invitations to Credit" prompts and therefore require the disclosures and risk warnings outlined below. As well as using the pre-approved disclosure you must also accompany your BNPL Product promotion with a link to the Klarna terms and conditions page or to your dedicated Klarna Frequently Asked Questions page that includes Klarna's terms and conditions and a pre-approved disclosure.
You must not "bundle" financial promotions which refer to Klarna BNPL Products with other BNPL products and providers, for example:
Bundling financial promotions contravenes the FCA's overarching principle of being "clear, fair and not misleading". Since our terms differ significantly from other BNPL products provided by different providers, i.e. we have monthly repayment schedules rather than fortnightly, financial promotions "bundling" should not take place. This type of marketing will not be approved by Klarna.
Disclosures should be positioned horizontally.
Full terms and conditions should be no more than one click away. 
Risk warnings should not be less prominent than any wording about the potential benefits of the product.
Always provide a link to our terms and conditions or display the full URL klarna.com/uk/terms-and-conditions
Social Media disclosure placement tips
Instagram Feed - Include in the image or in text. Not buried within or under multiple hashtags. If you cannot provide a link in your bio for T&Cs then use the full URL in your post: klarna.com/uk/terms-and-conditions.
Instagram Stories - Include disclosure in images.
Twitter - Avoid placing disclosures in an image.
Google Ad - Disclosure can be at the end of text.
Banners - Dynamic/carousel banners may include disclosure in the final frame. 
Email CRM - Include the disclosure / risk warning next to the invitation to credit or any wording about the potential benefits.
Below we have provided the appropriate disclaimer for a selection of common marketing channels in which you might promote Klarna and its products. Please copy the text, replacing the elements in bold which apply to your company and the Klarna products featured in the promotion. Remember, if you are using Klarna Brand BNPL Messaging with no specific product referenced, you will need to include every Klarna BNPL product that you offer.
Please include this disclosure underneath your post:
Limited Space Disclosure:
Are you advertising Pay in 3 or Pay Later in 30 in the UK? ☑️
Does your ad include an "invitation to credit"? ☑️
Your advert MUST:
Use Pre-Approved prompts only
Make it clear that Klarna is a form of credit.
Be balanced - does not emphasise the benefits without also including the risks of taking out credit
Include a disclosure
Follow our Prominence Rules
Follow our Placement Rules
Update onsite messaging incl. banners with approved Klarna messaging
The landing page is up-to-date - A reminder that it is mandatory for the Klarna landing page to be visible and easily accessible within the navigation of your website.
FAQs page are up-to-date - A reminder that it is mandatory for the Klarna FAQs to be visible and easily accessible within the navigation of your website
Email/CRM - BNPL Disclosures are included wherever there is an invitation to credit and at the bottom of emails when talking about Klarna's BNPL products
BNPL Disclosures updated for all channels in use (TV, Billboard (Print or Digital), Website, Radio or Podcast & Social Media)
Klarna T&Cs are one click away from the point of communication for all channels in use
If yes, GOOD TO GO.