Paid/organic social
Announce Klarna to your shoppers, highlighting the unique value of pay later options at checkout. Share the news through social channels to raise awareness and keep shoppers coming back for more.
Inspiration for the social announcement about Klarna
Just pick one of the approved texts below and add it to your social posts. Make sure to use the provided text as it is to avoid misinterpretation of terms.
Pay in 3 without interest
| Option 1 | Option 2 |
| --- | --- |
| Shop now. Pay in 3 interest-free payments with Klarna. Sounds easy, doesn't it? And there is even better: it's completely free. | Shop now. Pay in 3 interest-free payments. We are pleased to introduce @klarna.fra, our new partner offering you flexible payment options at checkout! Select Klarna at checkout. 18+ T&Cs apply. Please shop responsibly. |
This section only applies to:
Inspiration pour l'annonce de Klarna sur les réseaux sociaux
Il vous suffit de sélectionner l'un des textes approuvés ci-dessous et de l'ajouter à vos publications sur les réseaux sociaux.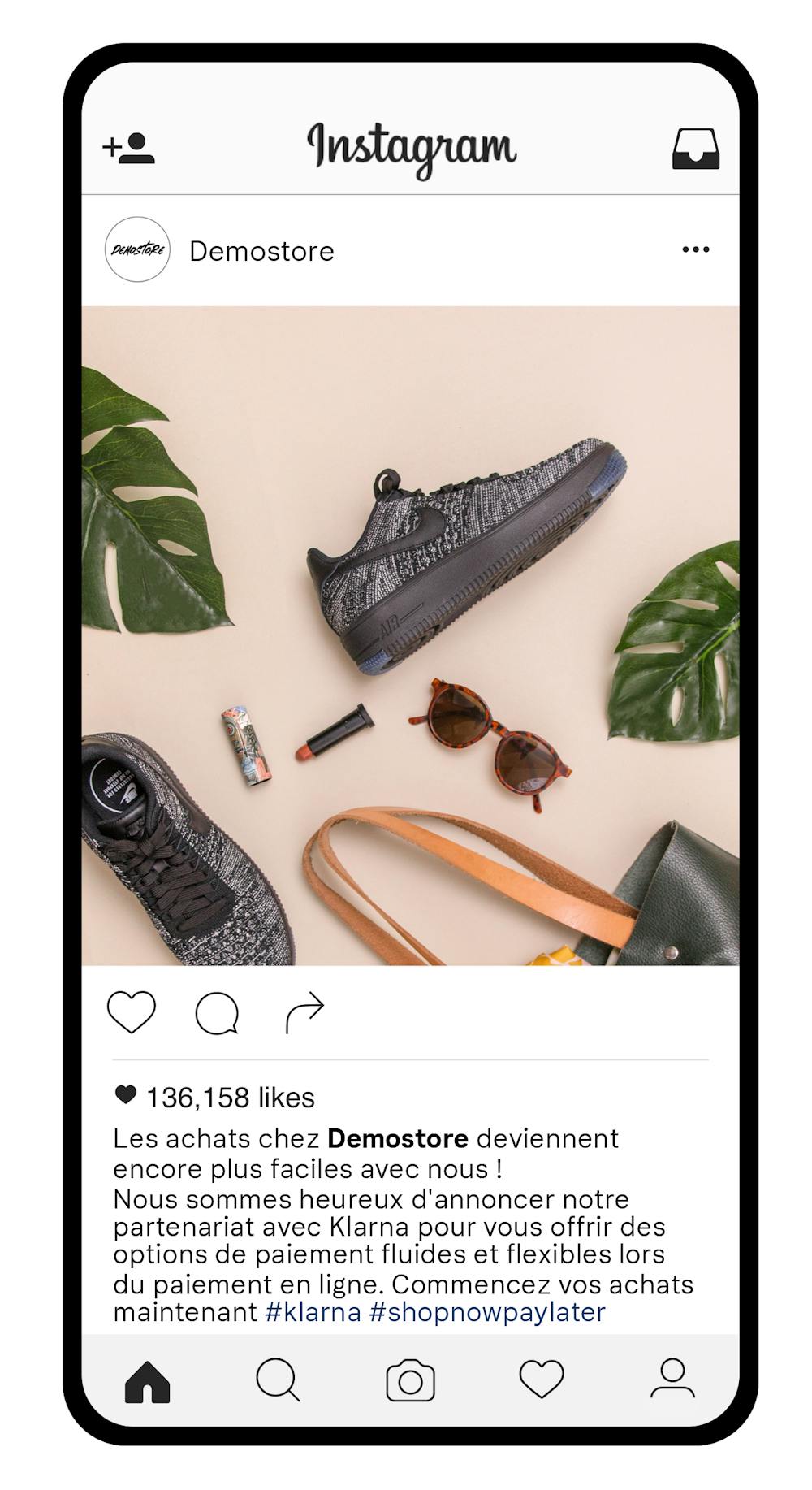 Payer en 3 fois sans frais
| Option 1 | Option 2 |
| --- | --- |
| Nous nous sommes associés à Klarna pour vous donner "Payer en 3 fois sans frais" pour payer votre commande. Cela semble facile, n'est-ce pas ? Et il y a mieux encore : c'est totalement gratuit. | Achète maintenant. Paie en 3 fois sans frais avec Klarna. Nous avons le plaisir de vous présenter @klarna.fra, notre nouveau partenaire vous offrant des options de paiement flexibles à la caisse ! Choisis Klarna lors du paiement.  Offre soumise à conditions, dès 18 ans. Veille à dépenser de manière responsable. |