Abandoned cart e-mail
Studies show that about 75% of shoppers who abandon their carts usually plan to come back. By adding an Abandoned Cart email you can send a friendly reminder to shoppers, encouraging them to buy today and pay for it later with Klarna. Make sure to include a call to action encouraging customers to 'Shop Now'.
Give an incentive to shoppers who return to their shopping carts. Offer a discount code, free shipping, or next day delivery in order to boost conversion.
According to the European Commission's definition of legal grounds for processing data you're compliant as long as you have explicit consent from the visitor to receive those emails.
You can simply copy and paste all content needed for the abandoned cart email from below. Make sure to use the provided text as it is to avoid misinterpretation of terms.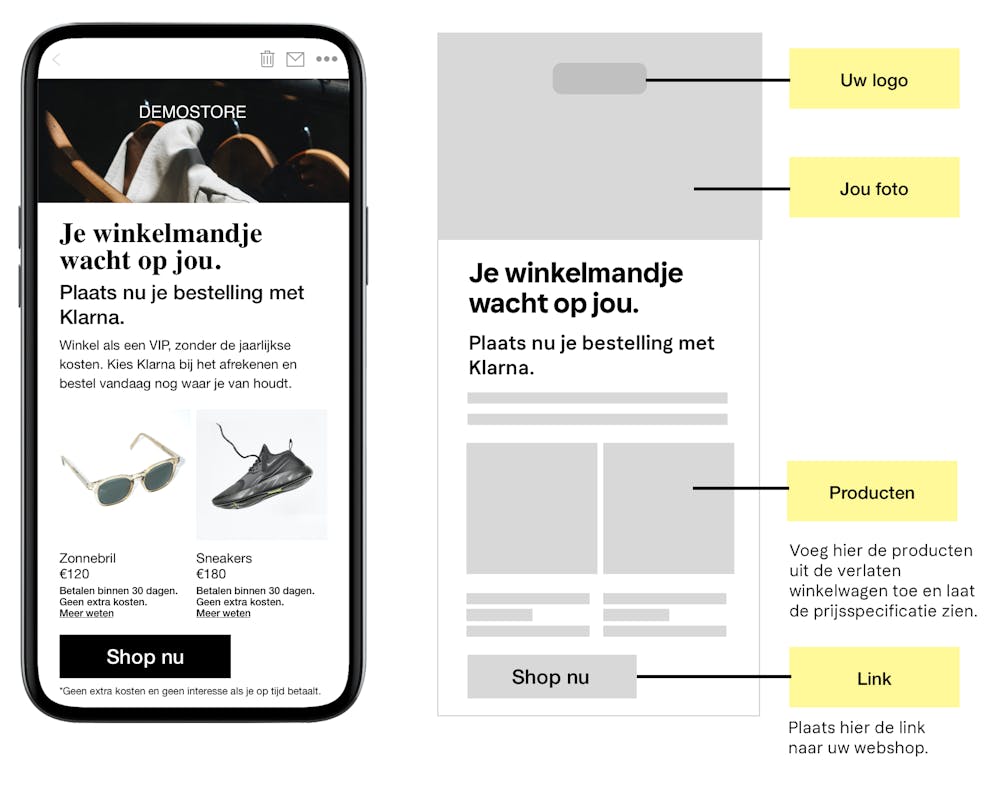 This section only applies to:
Des études montrent qu'environ 75% des acheteurs qui abandonnent leur panier prévoient généralement de revenir. En ajoutant un e-mail Panier abandonné, vous pouvez envoyer un rappel amical aux acheteurs, les encourageant à acheter aujourd'hui et à payer plus tard avec Klarna. Assurez-vous d'inclure un appel à l'action encourageant les clients à « Acheter maintenant ».
Encouragez les acheteurs qui retournent dans leur panier. Offrez un code de réduction, la livraison gratuite ou la livraison le lendemain afin de stimuler la conversion.
Selon la définition de la Commission européenne des fondements juridiques pour le traitement des données, vous êtes conforme tant que vous avez le consentement explicite du visiteur pour recevoir ces e-mails.
Vous pouvez faire un copier-coller simple de tous les contenus nécessaires à l'e-mail sur le panier abandonné à partir d'ici.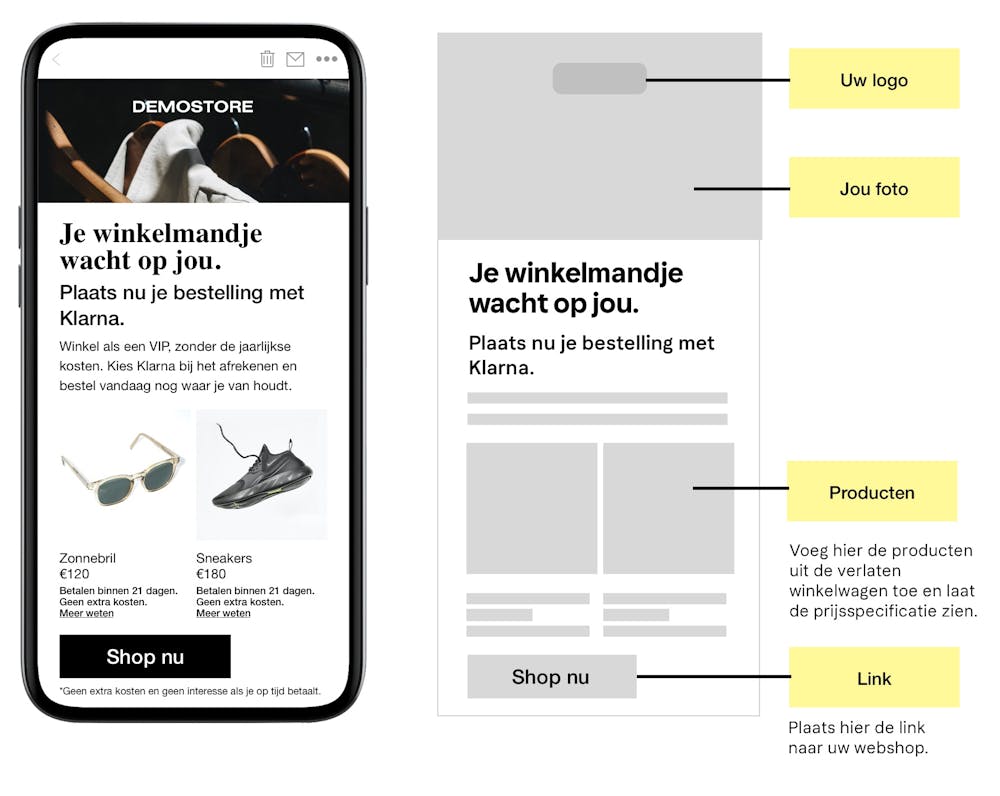 Onderzoeken tonen aan dat ongeveer 75% van de kopers die hun winkelwagentjes achterlaten, meestal van plan zijn om later terug te komen. Door een e-mail over een achtergelaten winkelwagentje toe te voegen, kunt u een vriendelijke herinnering sturen aan kopers, wat hen aanmoedigt om vandaag te kopen en er later voor te betalen met Klarna. Voeg zeker een oproep toe om actie te ondernemen om klanten aan te moedigen om nu te kopen ("Koop nu").
Bied een stimulans aan kopers die terugkeren naar hun winkelwagentjes. Bied een kortingscode, gratis verzending of levering de volgende dag aan om conversie te stimuleren.
U kunt eenvoudig alles wat u nodig heeft voor de e-mail over achtergelaten winkelwagentjes hier kopiëren en plakken.