You can customize the colors of some elements of the Klarna Widget to create a more consistent buying experience for the customer. The color is set as an option in the load call in the Javascript SDK. Only hexadecimal values are allowed. The default color scheme appears if no values are set.
Here is a list with the graphic elements that you can customize:
"color_details": "#C0FFEE"
"color_border": "#C0FFEE"
"color_border_selected": "#C0FFEE"
"color_text": "#C0FFEE"
"radius_border": "0px"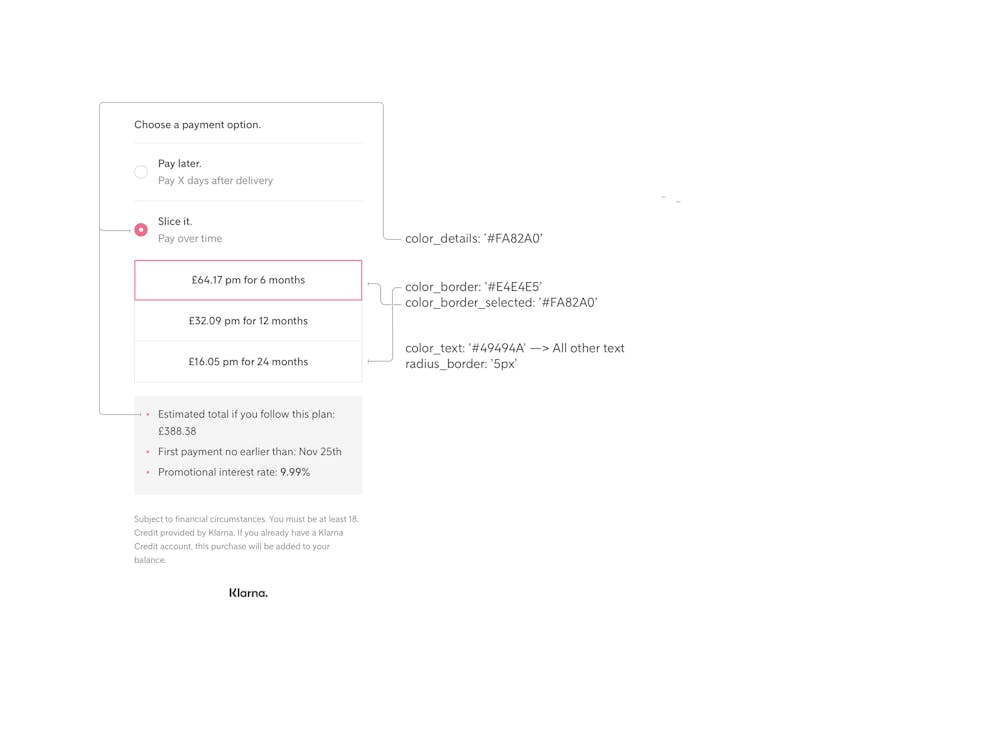 Klarna allows merchants to dynamically trigger promotional credit offers. First, the merchant must work with Klarna's responsible account manager to determine the criteria for custom offers and a standard naming convention that will be referred to when requesting such offers via our API.
When initiating a purchase flow where the merchant would like to offer custom financing, the merchant simply includes one or several custom payment method id(s) in the create_session call.
If SmartPost is used as shipping alternative, Klarna needs to receive the SmartPost address and the phone number to which the SmartPost SMS PIN is sent to.
The Phone number used to send out the SmartPost SMS PIN needs to be sent to Klarna for risk assessment. Click here to view our API reference.
The SmartPost address needs to be sent to Klarna in the "billing_address" object.