Additional Features
Here we explain some additional features that are available. These may or may not be applicable to your store.
Customizing the Klarna Form
You can customize the colors of some elements of the Klarna Widget to create a more consistent buying experience for the customer. The color is set as an option in the load call in the Javascript SDK. Only hexadecimal values are allowed. The default color scheme appears if no values are set.
Here is a list with the graphic elements that you can customize:
"color_details": "#C0FFEE"
"color_border": "#C0FFEE"
"color_border_selected": "#C0FFEE"
"color_text": "#C0FFEE"
"radius_border": "0px"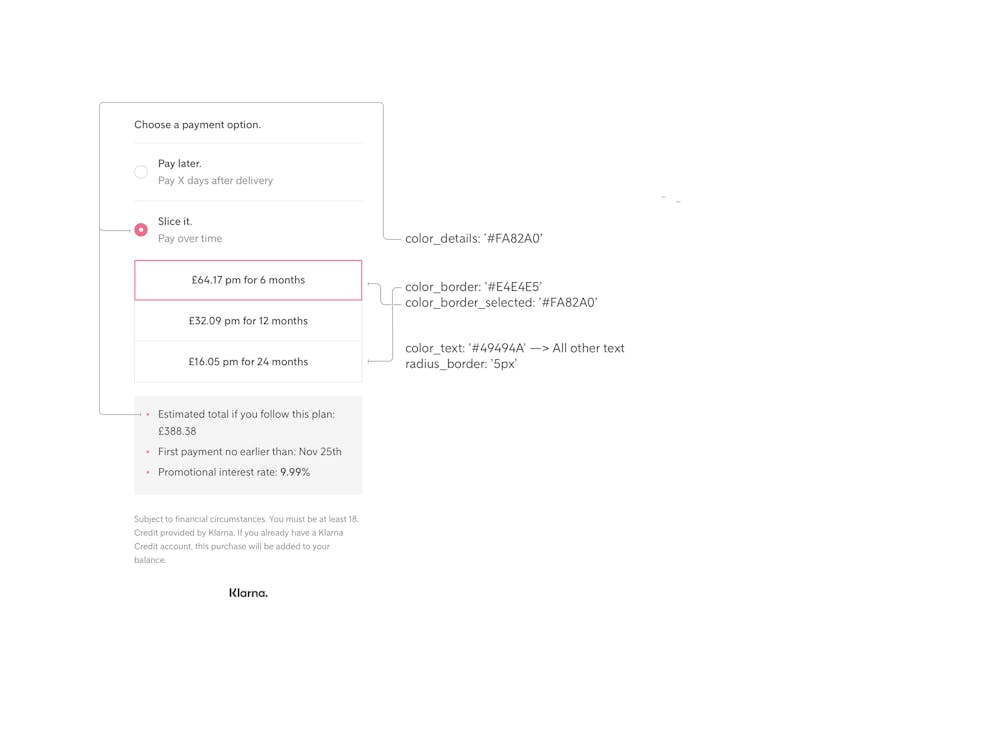 Dynamic Promotional Offers (Only GB & US)
Klarna allows merchants to dynamically trigger promotional credit offers. First, the merchant must work with Klarna's responsible account manager to determine the criteria for custom offers and a standard naming convention that will be referred to when requesting such offers via our API.
When initiating a purchase flow where the merchant would like to offer custom financing, the merchant simply includes one or several custom payment method id(s) in the create_session call.
Using SmartPost with Klarna (Only SE,NO, FI)
If SmartPost is used as shipping alternative, Klarna needs to receive the SmartPost address and the phone number to which the SmartPost SMS PIN is sent to.
The Phone number used to send out the SmartPost SMS PIN needs to be sent to Klarna for risk assessment. Click here to view our API reference.
The SmartPost address needs to be sent to Klarna in the "billing_address" object.
Business to Business (Only SE,NO,FI,DE)
Sometime an order is placed on behalf of an organization, not an individual. We refer to this as the Business to Business flow, or B2B flow, for Klarna Payments. The B2B flow comes with some differences in the user experience and integration compared to the Business to Consumer flow (B2C).
Klarna Payments can be configured to support B2B in Sweden, Norway, Finland and Germany.
Prerequisities
You have integrated Klarna Payments
You are configured for B2B purchases by Klarna (available in Sweden, Norway, Finland and Germany)
How it works
From an integration point of view, B2B for Klarna Payments is utilizing the same logic and API as the regular Klarna Payments for B2C (Business to Consumer). This means you will re-use your existing Klarna Payments integration and just make the changes described in the Integration flow below.
When enabling support for B2B you introduce a new user flow in Klarna Payments. The B2C flow by default and the B2B flow has to be specifically requested.
The B2B flow asks for details pertaining to an organization, such as Organization number.
The available payment methods in the B2B flow is only Invoice.
Recurring orders are supported in the B2B flow.
Integration flow
Follow these steps to enable the B2B flow in your existing Klarna Payments integration.
1. Prepare for the B2B flow
If you want to render the B2B flow, you need to set the customer.type field to organization.
If you have organizational data available for this customer, you can optionally prefill it by setting it in the correct object . This way the customer will not have to enter them again in the widget.
This section only applies to:
This section only applies to: