Customers are more likely to complete a purchase when they know how and when they will receive it. You can decide which delivery options apply, while we present all the information in an intuitive way. It's easy to add or remove carriers and you'll increase shoppers' confidence with personalized shipping options, and offer them the flexibility to choose carriers, delivery locations, time-slots, and more.
12% increase in new customer conversion and 5% increase for returning customers
Support for 70+ transport companies that you know and trust
Save time adding new shipping carriers to your checkout
Improved customer satisfaction with flexible shipping options and simplistic shopper experience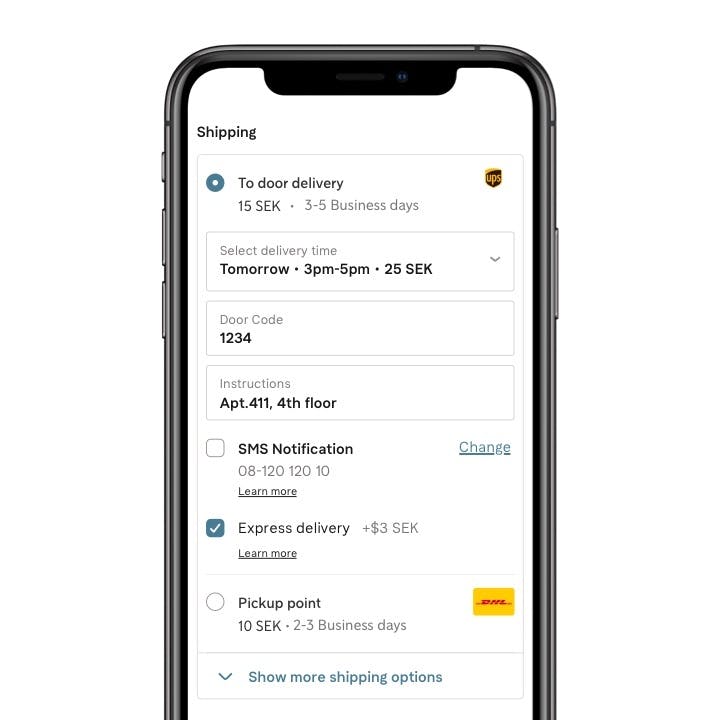 Shipping assistant is available for Klarna Checkout v3 integrations. You can integrate directly to our shipping API or to one of our Transport management system partners.  For more information on getting started, information about partnerships, and FAQ - visit the Klarna Shipping assistant page here.
Find the full API documentation for Klarna Shipping assistant here. (Note: It's recommended to first go through the above-mentioned page).  
Wanna see how your store could look? Check out our demo store here.